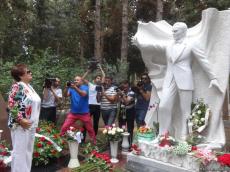 By Azernews
By Laman Ismayilova
Bakuvians have marked the 75th birthday anniversary of legendary singer and composer Muslim Magomayev.
The event organized on August 17 was attended by public and art figures, relatives, friends and his loyal fans, Trend Life reported.
Deputy Minister of Culture and Tourism Adalat Valiyev, addressing the opening ceremony, highlighted the invaluable contribution of Muslim Magomayev in the music history of Azerbaijan.
Valiyev reminded that to honor the memory of this great musician President Ilham Aliyev signed an order to solemnly mark the 75th birth anniversary of the world famous singer and composer, Muslim.
During the year, a number of events will be held across the country, he added.
Russian Ambassador to Azerbaijan Vladimir Dorokhin, in turn, stressed that Russia and Azerbaijan were the two countries that Magomayev equally loved.
The diplomat said that Russia is madly in love with the works of Muslim Magomayev, and his 75th birthday is celebrated as a great event.
The rector of the Azerbaijan state Academy of Arts, Omar Eldarov stressed that despite the incredible talent and fame, Muslim Magomayev was very easy, even a bit shy person.
Later, People's Artist of Azerbaijan, Eldar Guliyev addressed the event. "We should be proud that Muslim Magomayev was born in Baku, be proud that we lived with him at one time. Muslim Magomayev sang for the audience, he was singing to each person sitting in the hall, he spoke to everyone...,"said Guliyev.
The widow of the artist, People's Artist of the USSR, Tamara Sinyavskaya expressed her gratitude to all, who came and honored the memory of Muslim Magomayev.
Talking about the artist, Tamara Sinyavskaya remembered the words of the actor Innokenty Smoktunovsky, who said that Magomayev's pose of singing is a sign of quality.
Then the participants laid flowers to the monument of the legendary singer.
The participants also honored memory of  the National Leader of the Azerbaijani people, Heydar Aliyev, and laid flowers on his grave.
The memory of the outstanding ophthalmologist, academician Zarifa Aliyeva was also honored.