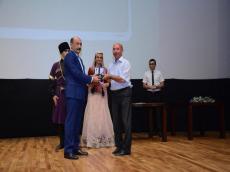 By Azernews
By Laman Ismayilova
Cinema is one of the most powerful art forms that can inspire people for one or other actions and affect development of nations.
Azerbaijan's cinema celebrated its 119 anniversary on August 2 with a solemn ceremony. The grand event organized at "Nizami" Cinema Center saw awarding of the veterans of national cinema.
Prominent art and public figures, cinematographers attended the ceremony, Trend Life reported.
Guests watched a video featuring scenes from film festivals, anniversary evenings and other events held in the field of cinematography, as well as footage from the film sets of new films.
Culture and Tourism Minister Abulfas Garayev, who addressed the event, congratulated the filmmakers on the occasion and wished them great success in their professional activities.
Speaking about the history of the Azerbaijani cinema, the minister highlighted the achievements of the past ten years, adding that 44 full-length feature films, hundreds of documentary films were shot. The number of films produced on state order by the film studios "Azerbaijanfilm", "Yadda?", "Salnam?", "Debüt", is more than three hundred.
The Azerbaijani films participated in film festivals in more than 50 countries at over two hundred international film festivals and won prestigious awards.
He stressed that the local filmmakers also shoot feature films about the Karabakh War and documentary films about the National Heroes of Azerbaijan.
The minister then presented certificates of to the awarded cinema workers. The group of filmmakers received badges of the Ministry of Culture and Tourism of Azerbaijan "Honorary Worker of Culture" and diplomas of honor.
Chairman of Azerbaijan Cinematographers Union, Shafiga Mammadova alreso addressed the event. She  the Union awarded jubilee and film veterans for their many years of fruitful activity in the field of cinema.
Famous filmmaker  Vagif Mustafayev was awarded the National Film Award. Receiving the award, Vagif Mustafayev expressed gratitude for the high appreciation of his creative activity.
Next, the audience familiarized with the film project "Qaraba??n h?sr?t salnam?si", prepared by Honored Artist of Azerbaijan, director, film critic and screenwriter Ayaz Salaev.
The premiere of the feature film "Pomegranate Orchard" was  held within the framework of the event.
The storyline of the movie is about an old man, who lives along with his grandson and daughter-in-law in the decrepit house amidst of the huge pomegranate garden. Sudden comeback of his wayward son has changed a gentle rhythm of their peaceful existence. Forgotten bitter memories have come back and even more, new challenges are in store for them.
The director of the film is Ilgar Najafov. Scriptwriters are Asif Rustamov, Ilgar Najafov and Roelof Jan Minneboo (The Netherlands). Operator-director is Aykhan Salar (Germany), animation director is Rafig Nasirov, executive producer Akif Aliyev, producer Mushfig Hatamov.