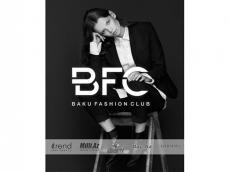 By Azernews
By Laman Ismayilova
Baku Fashion Club (BFC) will open in Baku.
An official inauguration ceremony will take place in Excelsior Hotel & Spa on June 29.
To be held under the slogan "We talk about Fashion plans to convene "under its wings'", the event will bring together fashion experts, including famous designers, fashion bloggers, popular models, journalists, buyers, etc.
The joint meetings will also be held as part of the project.
During the meetings, there will be "open microphone" and each member of the fashion club will be able discuss the necessary information, to tell about new trends as well as their activities, ask questions and get answers.
"Lively dialogue is the key to solving all problems!" said head of BFC Lyubov Gutorova-Poyraz, commenting on the event.
Gutorova-Poyraz is also the president FMS Models Agency and organizer of Baku Fashion Night.
Media partners of the event- Trend.az, Day.az, Milli.az, Azernews.az