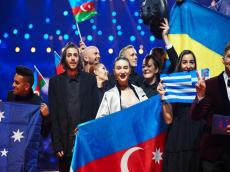 By Azernews
By Laman Ismayilova
Portugalian Salvador Sobral won the 2017 Eurovision Song Contest with the song 'Amar Pelos Dois'.
Thousands enjoyed a spectacular live show at Kyiv's International Exhibition Centre last weekend as Grand Final was watched by some 4 million people, breaking records.
Forty two countries participated in the 2017 Eurovision Song Contest.
Azerbaijan' Dihaj perform at number 12. The song, Skeletons, performed by Dihaj, told the story of a strong woman who is passionate about a bad guy. The performance featured a chalk board behind singer DiHaj. She wrote a text on this board during her act. At the end of the song, the walls came down.
 All in all, Azerbaijan has quite an artistic act and performance in the 2017 Eurovision Song Contest.
Choreographer and director of the staging was Naila Mammadzadeh. The delegation worked with three versions of the scenery. The first variant was prepared from a steel framework and was too heavy (137 kg). The second decoration was wooden, while the last was made of special metal alloys.
Diana's make-up was made by Ukrainian artist Marta Skalskaya. Her hair stylist was Anton Zabolotniy