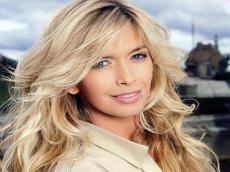 By Azernews
By Laman Ismayilova
Russian pop-singer Vera Brezhneva will please her fans in Baku with new concert #Number1.
The pop-singer will perform at the Heydar Aliyev Palace on April 20, Trend Life reported. For Baku audience Brezhneva prepares an interesting and vibrant program, featuring both new and old songs.
The singer is also a special guest at the Baku Shopping Festival which kicks off from April 10 to May 10.
On the eve of her Baku visit, Brezhneva revealed some rules and beauty secrets of her life.
First of all, Vera Brezhneva sleeps at least 8 hours a day.
Speaking about plastic surgery, she thinks one shouldn't have it too much.
"I do not exclude that one day I will also have to do something. Now, I go to the beautician for cleaning, care and other procedures", she added.
Vera Brezhneva doesn't wear any makeup on ordinary days.
The singer takes care of her body. She exercises with her coach. During the tours, she makes exercises for press, buttocks and legs.
The famous singer said that her diet includes porridge, vegetables, fruit and protein. Twice a month, she can eat sweets or flour products.
"The self-care is very important and necessary for health. It's not about the kilograms.  If a woman feels comfortable in a certain weight, looks great and it differs from the conventional standards of beauty –that's great", she said.