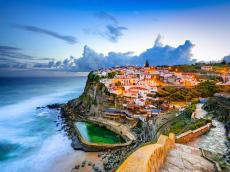 By Azernews
By Laman Ismayilova
Baku will host a photo exhibition "Hello Portugal! – The country seen through the eyes of an Azerbaijani traveller", to be organized by the Portuguese diplomatic mission in Azerbaijan, Trend Life reported.
The exhibition, which will be the first Portuguese cultural event of 2017, will be held at gallery Nur Art House on March 10-12. The photographer, Aydin Sadikhov, who visited Portugal extensively, will be showing forty of his favourite works.
Sadikhov's photographs cover most of Portugal's historical cities. Guests of the event will be able to see images of: Lisbon, the capital, from where sailors departed in the 15th and 16th Centuries, initiating the Discoveries and launching in fact the first globalization wave; Sintra, known for its many 19th Century Romantic architectural palaces; Braga, with its beautiful "Good Jesus of the Mount" sanctuary; Porto, well known for its Douro river and valleys where the grapes of the famous Port Wine grow; Tomar, the city where in the 12th Century the Christian Knight Templars Order built an incredibly beautiful monastery; Évora, with its Roman Temple dating from the first century A.D. and its "Chapel of Bones" built in the 16th century, a reminder of how life is ephemeral.
This will be the first time that an Azerbaijani artist will show his own vision of Portugal in Baku. Sadikhov will explain why he chose the country as his main destination, what were his impressions, how spending time there made him feel and how he realized that Portugal and Azerbaijan have many similarities, for example, the tolerant, welcoming and warm nature of their people.
Last year, the Mission of Portugal in Azerbaijan, together with local partners, organized several successful cultural events in Baku.
In April, the works of three Portuguese artists were shown in the "I Wanna be Adored" exhibition at the Museum of Modern Art; in September, the Portuguese ensemble "Fad Nu" played three concerts at the Landmark; in December, the "Daniel Pereira Trio" played with local musicians at the Mugham Centre.