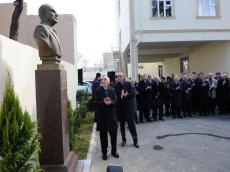 By Azernews
By Laman Ismayilova
A bust of Nikolai Baibakov, famous public figure and Hero of Socialist Labor, has been unveiled at secondary school No. 67 in Sabunchu settlement, Baku.
The ceremony was attended by SOCAR vice presidents, representatives of Sabunchu District Executive Authority, Azertac reported.
SOCAR first vice president Khoshbakht Yusifzade, addressing the event, said that Nikolai Baibakov played a major role in the development of Azerbaijan's oil industry.
 "He made a great contribution to the development of Azerbaijan's oil industry. For many years he held senior positions in the former Soviet Union, but never forgot his native Azerbaijan and always supported it," he said.
Nikolai Baibakov was a Soviet statesman, economist and Hero of Socialist Labor.  He was born in the family of Baku`s oil worker on  March 6, 1911. Baibakov studied in the Azerbaijan Oil and Chemistry Institute, from which he graduated in 1931 as a mining engineer.
After completing his military service, Baibakov was appointed chief of the oilfield production department in an industrial complex in the USSR. Later he was promoted to chief engineer, then general director.
Nikolai Baibakov was in charge of evacuating oil industry facilities to the eastern regions during the Nazi invasion. Because of his success in the planning of the oil industry sector of the Soviet Union and experience in economics, he was appointed as the head of Gosplan (State Planning Committee) of the USSR twice in 1955–1957 and  1965–1985.
Baybakov received numerous awards, including Lenin Prize (1963) for the discovery and development of gas-condensate fields, the order of "Glory" and "Independence" (Azerbaijan), order "For merits before Fatherland" II degrees (Russia) and others.
Moreover, Nikolay Baybakov is an author of 200 scientific works and publications about industrial practice for a comprehensive solution to problems of development of oil and gas fields.