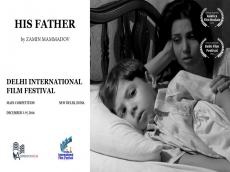 By Azernews
By Laman Ismayilova
The Azerbaijani movies "Lesson" and "His father" were demonstrated at the 5th Delhi International Film Festival, Azertac reported.
"The Lesson" is a story about the life of Baku schoolchildren, friendship and responsibility for their actions.
Khalid becomes a target of ridicule for his classmates. No-one wants to become friends with him. He dreams of making friends with the most popular boy in the class.  "If I have such a friend, I'll be respected and loved by everyone," the kid once told to his granddad.
In the end, the naive boy realizes that respect and recognition come only to those who have self-esteem and who value and remember their roots.
"The Lesson" was shot upon the order of the Culture and Tourism Ministry by the Azerbaijanfilm studio named after Cafar Cabbarli.
The film was scripted by Elza Agayeva and Anastasiya Volkova, directed by Rafiq Aliyev and Cavid Tavakkul, produced by Musfig Hatamov and photography by Rauf Qurbanaliyev.
"His Father" is a psychological drama that describes the negative consequences of the Nagorno-Karabakh War that broke out in the end of the 90's following Armenia's groundless territorial claims against Azerbaijan.
The main character is a journalist, who disappears in the war zone leaving his family desperate.
"His father" perfectly demonstrates the negative aftereffects of the war on the society.
The script writer and director of the film is Zamin Mammadov, director of photography is Ali Sultanov, the art director is Arif Niftiyev, executive producer is Rahim Sadigov, producer is Mushfig Hatamov.
Shamil Suleymanli, Mabud Maharramov, and Ulviyya Rza perform starring role in film.
The Delhi International Film Festival initially started in 2012, after witnessing the surpassing audience presence and the film entries received on its first session. It opens entries for short films, documentaries, feature films, music videos etc.
Delhi became an indelible part of cinematic history when it got its only International film festival in the form of DIFF. DIFF became the catalyst for getting people closer to Indian and world cinema in the year of the centenary celebrations of Delhi and Indian Cinema.
The idea of DIFF was conceptualized by The Social Circle.