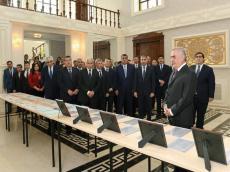 By  Azertac 
A prominent writer and publicist, teacher Eynali bey Sultanov's 150th anniversary has been held at Nakhchivan State Musical Drama Theatre after Jalil Mammadguluzade under the instructions of chairman of the Supreme Assembly of Nakhchivan Autonomous Republic Vasif Talibov.
Chairman of the Supreme Assembly Vasif Talibov and the event participants first viewed an exhibition dedicated to the 150th jubilee of Eynali bey Sultanov.
Addressing the event, Vasif Talibov highlighted the life and activities of the prominent writer.
The event then featured screening of "His goal of life" film made by Nakhchivan State Television on the occasion of 150th anniversary of Eynali bey Sultanov.