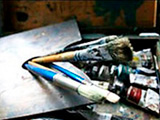 An exhibition of paintings by Azerbaijani artist Maryam Alakbarli entitled "Dane of colors" opened at the Dolmabahche Art Gallery in Istanbul, Turkey.
The exhibition was co-organized by the Consulate General of Azerbaijan in Istanbul and National Palaces Directorate of the Turkish Parliament. A book dedicated to paintings of Alakbarli presented to participants of the opening of the exhibition, which will last three days.
Azerbaijan`s Consul General in Istanbul Hasan Zeynalov noted the exhibition was a remarkable event in the cultural life of Turkey.
Members of the Turkish Parliament, Secretary General of the Cooperation Council of Turkic Speaking States Halil Akinci, Palmali Group of Companies` president Mubariz Mansimov, as well as Turkish businessmen viewed the paintings of the Azerbaijani artist.
Student of the National School of Decorative Arts in Paris, Maryam Alakbarli`s sculptures have been on display in Paris, Moscow and Berlin.
Maryam`s exhibition will be held in Turkey`s capital Ankara with the organization of the Embassy of Azerbaijan in Turkey and Ministry of Culture and Tourism of Turkey.
Being one of the eminent fine art masters in Azerbaijan, Maryam is in constant search for synthesis of East and West traditions, of national originality.
Preserving philosophical world view basis and poetry of Eastern classical art along with outlook of contemporary man distinguishes her paintings.
/
AzerTAc
/