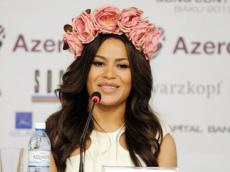 Azerbaijan feels like home, Ukraine's representative Gaitana said at the at the press conference after the voting of the second Semi-Finals of Eurovision-2012.
"I am very happy that we passed this test, and that we are in the finals," she said. "Azerbaijan is a great country with great people."
Gaitana also noted that she was nervous before the semi-finals.
"I hope we will improve our performance in the finals," Gaitana said.
Gaita-Lurdes Essami, better known under stage name Gaitana, born on 29 September 1979 in Kiev), is a Ukrainian singer and songwriter of Ukrainian and Congolese descent.
Her music combines elements of jazz, funk, soul, and folk music. Gaitana represents Ukraine in the Eurovision Song Contest 2012 in Baku, Azerbaijan.
Ukraine will go under #25 in the finals.
/
Trend
/