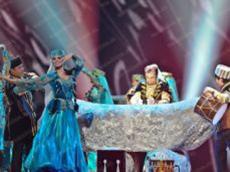 Last night, Europe has witnessed the greatness of Azerbaijan`s culture as the country hosted a grandiose first semi-final of the Eurovision-2012 song contest.
Millions of people across Europe along with audience at the Baku Crystal Hall watched Natig, an Azerbaijani national rhythm group, perform in the interval act of today`s show.
The performance featured a tambourine stone (Gaval Dash), the oldest musical instrument ever discovered in Azerbaijan, as well as several other traditional instruments including a tar, a kamancha (both string instruments), a balaban and a zurna (wind instruments). They performed a yally, which is a traditional Azerbaijani round dance, and young drummers were conveying messages through drum beats.