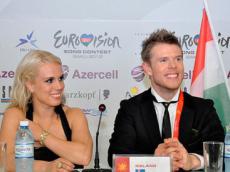 Iceland's Jonsi said he does not have plans to represent Iceland again at the Eurovision song contest next year, Trend reported.
Greta Salome and Jonsi from Iceland represented Iceland, and spoke at the press conference after the voting of the first Semi-Finals of Eurovision-2012.
"My first Eurovision was in 2004, and now again in Azerbaijan," Jonsi said. "The biggest difference was my female partner."
Greta Salome in her turn said that their song was about love and hope.
In the Finals, Iceland will perform under #7.
/
Trend
/