Caspian Integration Business Club members met with Shahmar Movsumov, the Executive Director of the State Oil Fund of the Republic of Azerbaijan (SOFAZ).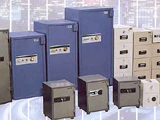 Club president Telman Aliyev gave brief information about the Club.

He said Ilham Aliyev is an honorary chair of the club established in 2002.
Shahmar Movsumov said the State Budget of Azerbaijan exceeded $5bn while it was $200-300mn in 1990.
And it will reach $7bn next year. He said the principal aim of the Oil Fund is to accumulate the petrodollars and prevent the problems.
"The Fund manages the means by placing abroad," he said.
He also added that the oil revenues are directed to the development of non-oil sector.
Movsumov answered questions of the Club members, APA reports.