"We have undertaken to by the end of the year - Iranian year ends March 20 - prepare a comprehensive plan to curb Mnemiopsis Leidyi, the comb jellyfish pest newly introduced into the Caspian Sea," noted Wednesday, the director of the Research Institute of Iran's Fisheries Company.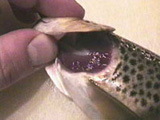 "We have also come to the conclusion that biological fight is the only way to curb the spread of the aggressive pest," Abbasali Motallebi said adding, "in doing so we will definitely make use of the views and expertise of the experts from other countries too," the Persian service of Iranian Students News Agency (ISNA) reported.
The jellyfish, alien to the Caspian Sea region is said to have been introduced into the world's largest inland body of water by the ballast waters of the ships calling the sea. They feed on the food resources of the kilka fish, and as a result some 25 percent of the kilka resources of the sea has declined. Kilka fish are themselves food for other fish in the sea. The presence of the non-indigenous pest was first detected in the Caspian Sea in 2000.
The official further referred to the joint projects currently being conducted with the Netherlands and said the projects include the production of nine different products for both domestic and export purposes. He explained that the projects included production of various snacks, cheese, sausages, burgers, fish steaks, ice cream and different conserves.
/www.mehrnews.ir/