Azerbaijani secondary schools need 5562 teachers in different subjects.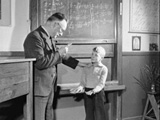 As APA reports, there are 694 vacancies for Azerbaijan Language and Literature specialists, 861 for English, 563 for History, 462 for Geography, 379 for Chemistry, 449 for Mathematics, 499 for Physical Education and several others.
The regions, which are in great need of teacher, are Imishli, Khachmaz, Jalilabad, Yardimli, Masalli, Gusar, Lerik, Kurdamir. Imishli has 302, Jalilabad 298, Xachmaz 197, Lerik 183, Kurdamir 160, Masalli 180,Yardimli 166,Gusar 179 vacancies.
The Education Ministry told Development Program on provision of pedagogical specialists in Azerbaijani comprehensive schools is being implemented to meet the needs. The program covering 2005-2009 years will cost $5.4mln.