The US ICT companies are keen on making investment in Azerbaijan, Minister of Communications and Information technologies Ali Abbasov stated.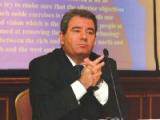 He had visited the USA with a large delegation from July 8 to 18.
He said that companies like Intel, Microsoft and CISCO Systems are ready to make investment and are waiting the Government of Azerbaijan to make a decision.
He also spoke of the delegation's meetings in the US and said that issue on involvement of the Us investors in the creation of economic zones in Azerbaijan were discussed during the visit.
He said that it must be very favorable to use the experience of the US in creation of economic zones. He said that the USA created technoparks in 1960-70 and these steps proved themselves.
He didn't rule out that the experience of the West should also be learned, APA reports.