As of July 1, the assets of the bank rose by 75.35% in comparison with June 2005 and equalled AZN 96.8 mn, which represents an increase by 49.46% from 1 January 2006.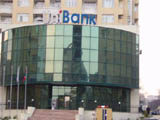 Bank's head office told APA that the credit portfolio of the Bank rose by 75% reaching AZN 62.5 mn and being 40.12% up on the beginning of January 2006.
The deposits attracted by the Bank amounted to AZN 61.9 mn by 1 July 2006 having grown by 48.37% since the beginning of this year and representing an increase by 2.2 times annually.
The five-month incomes of the Bank equalled AZN 7,509 thousand being 63.67% more than in the same period of last year. The balance profits of the Bank equalled AZN 1,757 thousand representing an increase by 27.1% from the corresponding period of last year.