Oil jumped to a record high above $75 a barrel on Wednesday on strong U.S. demand and ongoing tensions over Iran's nuclear program.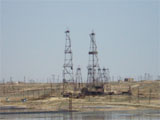 According to Reuters, U.S. crude futures reached a record settlement of $75.19, up 1.7 percent, or $1.26, on Wednesday, after hitting an all-time intraday trade high of $75.40. The market was closed on Monday and Tuesday for the Independence Day holiday.
London Brent crude rose $1.47, or 2 percent, to $73.98.
A dispute between OPEC nation Iran and the West over Tehran's atomic ambitions helped drive prices to a then-record $75.35 in April as investors feared potential supply disruptions from the world's fourth-biggest crude exporter.
News that Iran had postponed a planned meeting with the European Union to discuss incentives to end the standoff supported crude's rise.
EU foreign policy chief Javier Solana had been due to meet Iranian nuclear negotiator Ali Larijani on Wednesday. They are now scheduled to meet in Brussels on Thursday and July 11.
Solana, surprised by Larijani's sudden postponement, made clear the West wants a quick answer on its incentives for Iran to halt uranium enrichment.
"From the oil market's perspective, the intensity of the confrontation has not changed," said Michael Wittner of Calyon investment bank. "We're not closer to a resolution of the crisis, but it hasn't escalated. We're trapped in no man's land."
Oil also rose as geopolitical tension heightened after North Korea, labeled by President George W. Bush as part of an "axis of evil," launched a series of missiles into the Japan Sea.
The missiles included a long-range one able to reach Alaska, although it apparently failed 40 seconds into its flight, U.S. officials said.