Azerbaijani government may revise valid transit tariffs for transportation of Kazakhstan corn to third country via Azerbaijani area.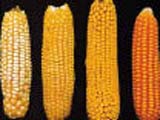 Ziya Mammadov, Transport Minister, stressed on regular changes to transit tariff policy to compete neighbor countries, APA reports.
"We decrease tariffs down to minimum for load attraction. Tariffs on corn can be decreased by about 50%. Discounts are possible as well. Final decision depends on negotiations result," he said.