A summit on Caspian Eurasia Cargo Transport started in Baku on Tuesday.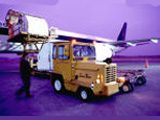 According to AssA-Irada, over 150 representatives from the US, Asian, Middle Eastern, European and CIS countries are in attendance. The event intends to explore Azerbaijan's capacity to act as a cargo transit country for Europe, Asia and the Middle East.
The General Director of Azerbaijan Airlines, Jahangir Askerov, told journalists that the attention of international agencies to the work of the national airline is explained by the fact that safety measures and services are in line with requirements here. He indicated that a special emphasis is placed on security at the Heydar Aliyev International Airport in Baku.
"The most advanced safety and security equipment in the CIS is installed at the Baku airport," Askerov said.
The summit is the first meeting on international air transport to be held in Azerbaijan. The two-day event will end in the signing of a number of documents.
/AzerNEWS.net/