Adidas-Salomon buys Reebok brand distribution rights for part of CIS.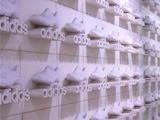 German sport equipment maker Adidas-Salomon AG has bought from Russian firm ZAO RBK-Retail the rights to exclusively distribute as of 1 January 2007 its Reebok brand in seven of the countries from the Commonwealth of Independent States (CIS), the German company reported on 10 May 2006.
Financial details were not disclosed. The Reebok products will be distributed in Armenia, Azerbaijan, Belarus, Kazakhstan, Russia, Ukraine and Uzbekistan, by Moscow-based Adidas Ltd.
The move is part of Adidas-Salomon's strategy to buy out its joint-ventures and the distributors of its products.
ZAO RBK-Retail will hold the exclusive distribution rights for Reebok products until the end of 2006.
/www.uzreport.com/