No difference is shown towards the state and private banking sectors.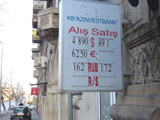 As APA reports, this explanation was given by the Chair of the Board of the National Bank of Azerbaijan (NBA) Elman Rustamov when commenting the conclusion of the mission of the International Monetary Fund currently visiting our country on the difference between private and state banks.
According to Mr. Rustamov, the share of private banks in the country has increased by twice over the recent 2-3 years and reached 50% from 25-27%: "This trend is ongoing and private banks are dynamically developing. The process is regulated by the market and the government does not intervene in it."
The NBA head said that a new normative document on currency exchange stations has already been prepared and presented to the Ministry of Justice for an opinion. Mr. Rustamov said that it is planned to introduce the document from the second half of this year: The document also concretizes the requirements to currency exchange stations. Works are underway for adaptation to the rules and it led to decrease in the number of currency exchange stations by more than 300."