Meeting was held in the Ministry of Economic Development with the members of the Turkish-Azerbaijani Business Council (TABC).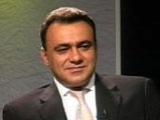 Perspectives of expansion of Turkish-Azerbaijani economic relations, issues on strengthening cooperation between TABC and Ministry of Economci Development were discussed at the meeting, APA reports.
The Minister Heydar Babayev informed the guests about economic reforms implemented in Azerbaijan, results of those reforms and stressed that in the first three months of this year real growth of GDP came to 39.5% in comparison with the relevant period of the last year. The principal priority line at present is to develop the non-oil sector and special significance is attached to cooperation with Turkey in this field.
The Chair of TABC Jengiz Gul gave information about Council's activity and stressed the role of the Council in development of Azerbaijani-Turkish economic relations. He offered to appoint a coordinating representative for cooperation of TABC and Ministry. Mr.Babayev, in his turn, appreciated the proposal by the chair of TABC and said that the coordinating representative will be appointed, and also noted the expediency of cooperation between the Azerbaijan Export and Investment Promotion Foundation (AZPROMO) and TABC.