Functions of Construction and Architecture Committee related to building are in the responsibility of Ministry for Emergencies.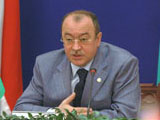 Not only in Baku, as well as in other territories, implementation of construction in expedient form and conformity of the constructed buildings to contemporary requirements will be examined, and we shall try provision of new constructions to be up to date standards, Minister for Emergencies Kamaladdin Heydarov has informed journalists.
According to the Minister, companies and businessmen have to apply to 10-15 organizations while constructing big buildings. Expert Office for new constructions to be established at the Ministry for Emergencies will rather relieve the condition of businessmen.
At first, endurance of the territory to earthquake and being in the slide-zone will be identified, expert opinion with regard to other main principals will be given. "Initial investigations show that expert opinion during the construction of some new buildings has not been considered. But people already live in those buildings. Expert Office will begin operating after the regulation is confirmed."
Mr.Heydarov said that all the buildings including those damaged in the earthquake in 2000 will be examined. The Minister added that so far not thorough investigations are implemented in this direction, APA reports.