The President of the Barmek Azerbaijan Electricity Network Limited Liability Company (LLC) Huseyn Arabul will inform the President of Turkey Ahmad Nejdet Sezer of the problems the Company has been facing recently in Azerbaijan.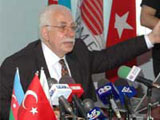 As APA reports, that's going to happen during the President's visit on April 4-5.

"Barmek is the biggest Turkish company operating in Azerbaijan. Of course, if the meeting takes place, I will inform the President about the situation", Mr.Arabul stressed.
The Barmek President also explained the reason why his visit to Turkey was cancelled: "I was called back when I was in the airport and cancelled the visit".