Dismissed employees of Azertrans, sub-company of Azpetrol Group of Companies, staged a protest outside the headquarters of the company in Icheri Sheher.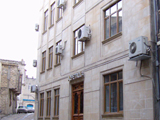 The correspondent of APA reports from the site that all of the 24 employees are from Alar village of Jalilabad region. The protesters say that they have worked for Azertrans for four or five years under annual contract.
"The company signed a three-month-term contract this year. We were made to sign it 10-15 days earlier. The contract was ineffective yesterday. We all were dismissed from the company without being informed beforehand. The company's management says as if we have breached the contract. But in fact, the company violated the Labor Code. Under the contract, an employee is to be informed about his dismissal a month before," protesters said.
The company's general manager Parviz Aliyev received three discharged employees. Aliyev told them that they woul be provided with other jobs, and their salaries would be paid. The general manger said he would meet with the protestors on 3 April and inform them about the final decision.
The chief of the Azpetrol Group of Companies Rafig Aliyev and his brother, former Minister for Economic Development are in prison. They are also from Alar village, Jalilabad.