Production of "OKA" midhet cars in Azerbaijan can be resumed this year again.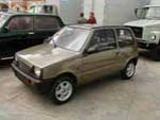 Journalists were informed about it by the head of the press-service of the Ganja Car Factory (GCF) Magsad Rahimov.
According to Mr.Rahimov, production of "OKA" cars was not stopped. Simply, the period of the contract signed between GCF and the factory operating in Naberezhnye Chelny city of Russia is over. GCF is currently holding negotiations on resuming production in cooperation with the Russian car factory. Depending on the result of negotiations, some changes may be made to the terms of the contract as well.