A cause pleaded against the Barmek-Azerbaijan Electricity Network Limited Liability Company (LLC) damaged the image of the Company and imposed a phychological influence on its employees and subscribers.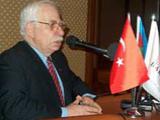 According to APA, Mr.Arabul said: "Inspections are being implemented in normal form at present. However, we have difficulties to continue our previous activity."
Mr.Arabul notes that if the government is officially against operation of Barmek in Azerbaijan, then he is ready to leave Azerbaijan. As to inspections' being preconceived or not, Mr.Arabul said that a final decision to be issued would show it.
Commenting his meeting with the President of the country, Mr.Arabul stressed: "I will meet with the President if he wants it".

The Committee is currently investigating the level of implementation of Barmek's contract liabilities.