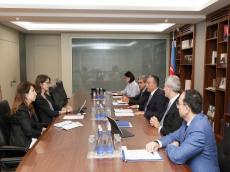 Azerbaijan's Minister of Labor and Social Protection of Population Sahil Babayev has met with newly appointed World Bank Country Manager for the country Stefanie Stallmeister, Azernews reports.
During the meeting, Minister Sahil Babayev hailed the successful cooperation between the Ministry and the World Bank, stressing the importance of the projects implemented jointly over the past period.
Babayev emphasized the important role of the "Employment Support Project" in expanding the self-employment program in Azerbaijan and supporting the access of vulnerable groups to small business.
The meeting also focused on the social reforms and achievements, strengthening of social protection of vulnerable groups, expansion of active employment programs and other issues.
Stefanie Stallmeister also praised the fruitful cooperation between the World Bank and the Ministry over the past period.
The parties exchanged views on the current cooperation agenda, the implementation of the "Employment Support Project" as well as prospects for future cooperation.