China Southern airlines air company will make a Baku-Urumqi flight by B-757 on March 7, Zhang Haizhou, the Chinese Ambassador to Azerbaijan, stated at the presentation of the flight.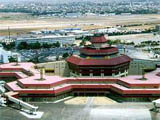 It comes as the first direct flight of the air company between the two countries. The flights will be made once a week. The diplomat said that flight to expand the bilateral trade-economic relationships. "There are traditional friendly relationships between our countries," he stated.
"Last year the goods turnover amounted to $250m, he informed. The Chinese companies greatly contributed it."
In his remarks Lio Lee, head of the Baku office of the company, told the presentation ceremony that the price of the tickets was coordinated with the Azerbaijani state air company AZAL and they are identical.