National Bank of Turkmenistan called on Azerbaijani government to resume talks on settlement of question on debt of Azerbaijan to the country.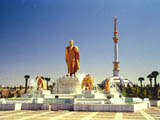 The Ministry of Finance informs Azerbaijani side wants to continue talks in Baku after failing in two meetings in Ashgabat, Turkmenistan. The main disputable question on the issue is the amount of the debt that is shown USD 18 million by official Baku and declared to be unreal USD 56 million by Ashgabat, ANS informs.
The source of such a disagreement is Turkmenistan calculates interests of the debt while it does not consider goods sent from Baku as repayment of the interests. Turkmenistan side states the goods were lost, however Azerbaijan says it does not bear any responsibility for the losses.
But the Ministry thinks interests may be agreed upon if the sides come to a compromise. Azerbaijan still rejects to involve third side to settlement of the dispute, however Turkmenistan sold debt of Azerbaijan to National Reserve Bank of Russia several years ago.