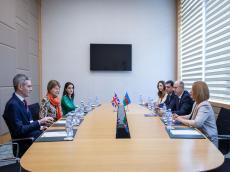 Minister of Energy Parviz Shahbazov met with UK Minister's Trade Envoy for Azerbaijan Baroness Emma Nicholson, who is on a visit to our country within the Baku Energy Week, Azernews reports, citing Azerbaijan's Energy Ministry.
At the meeting, discussions were held on the development of cooperation between the two countries within the Joint Intergovernmental Commission and in the field of transition to clean energy. The importance of conducting an intensive dialogue in the fields of green energy and energy efficiency and activating works on specific projects was emphasized. The prospects for cooperation between Azerbaijan and UK on financing of green energy were reviewed.
Then Minister of Energy Parviz Shahbazov participated in the event titled Baku Connect held jointly with the Energy Industries Council in order to raise awareness of economic opportunities in the field of energy in Azerbaijan.
In his speech, the Minister spoke about the reforms carried out in the field of energy in our country, the implemented energy projects, the role of Azerbaijan in ensuring the energy security of Europe, the production and export of "green energy", as well as potential cooperation directions. It was noted that there is close cooperation with the UK in energy projects of global importance, over the years 34 billion USD have been invested in Azerbaijan from the UK, and successful relations in the hydrocarbon sector are now continuing in the direction of energy transition and development of the use of renewable energy. In this regard, the implementation of the solar energy project with bp in the liberated territories was brought to attention. It was noted that the Memorandum of Understanding signed in May 2021 between the Ministry of Energy and the International Trade Department of Great Britain on cooperation in the field of transition to clean energy contributes to our cooperation on energy transition and decarbonization. Our cooperation with bp in this direction is also commendable.
The event, which was represented by more than 50 companies, continued with discussions in three sessions: "Overview of the Energy Market of Azerbaijan and Project Opportunities", "Business in Azerbaijan" and "How Azerbaijan Perceives the Energy Transition".