The issues of the gas supplies from Azerbaijan to Georgia in the volume of 3-4 million cubic meters daily have been discussed during the visit of the Georgian government delegation to Baku.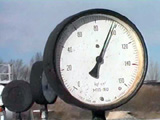 The delegation consisted of the Georgian Energy Minister Gilauri, president of the Georgian international oil corporation Vashakidze and president of the Georgian international gas corporation Ingorokva, Trend reports.
According to Georgian Ambassador, talks with the Energy and Industry Minister of Azerbaijan, heads of "Azerenerji" and Azerigaz Joint Stock Companies (JSC) have been held, however the consultations are still going on, where technical issues are being discussed.
According to Gumberidze, during consultations the issues of the energy supplies increase have been discussed. It is difficult to say, what amount will be delivered to Georgia additionally, all depends on the cross-flows, he added.