Volume of assets of the Azerdemiryolbank Joint-Stock Bank (JSB) totaled 49 million 767.6 thousand AZN by January 1 of the current year and this is 73% more than the same indicator of the previous year.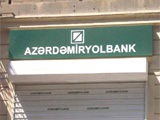 As APA informs, the credit portfolio of the Bank increased by 40% to 28 million 457.6 thousand AZN during the past year.
In the meantime, volume of funds attracted by the beginning of this year reached 14 million 202.6 thousand AZN.
The overall capital of Azerdemiryolbank increased 2.1 times to 12.7 million AZN and ownership capital increased by some 90% to 7.2 million AZN by the beginning of the current year.
It should be noted that one of the shareholders of Azerdemiryolbank JSB established in 1989 is the European Bank for Reconstruction and Development (stockholding 25%+1 share).