It is predicted that the basis inflation level will form 6-7% in the country during this year.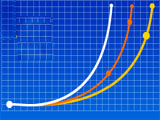 As APA reports citing the director of the Money Policy Department of the National bank of Azerbaijan (NBA) Khagani Abdullayev, the main goal of NBA for 2006 is to retain basis inflation in a one-digit number.
This indicator was in 5-5,6% level for 11 months of the past year. According to the words of the NBA official, the experience shows that the difference between basis inflation and general inflation was 1-2% in 2005.