A new bank to provide all types of financial services, with a charter capital of $5 million, has opened in Azerbaijan.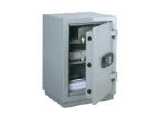 Azercredit was granted a license for its operation by the decision of the central National Bank late in December, reports AssA-Irada.
"The first three years will be a time of institutional building," the bank board chairman Zahir Aliyev told the presentation ceremony on Thursday. Under Azercredit's long-term and short-term strategy, the bank is to enter international markets, expand its network of affiliates and establish a corporate management system, Aliyev said.
Azercredit was founded as an open joint stock company by 11 Azeri natural entities. The bank plans to conduct extensive marketing activities, while pursuing a crediting and deposit policy and introducing new banking services.
"2005 was successful for Azerbaijan's banking system in terms of increasing the deposit and credit portfolio, capitals, and expansion of banking services. Azeri banks today are able to compete with foreign ones," representative of the National Bank Rufat Aslanly said.
Head of the Association of Banks of Azerbaijan, Zakir Nuriyev, said that entering the banking sector could be both challenging and rewarding.
"The difficulty could be related to the fact the banking system and competitive environment have already formed. The easy part is that the banking legislation and infrastructure have already been established. I hope that while drawing internal and external resources, Azercredit will promote the country's economic development."