Currency exchange stations acting in the territory of the country will be replaced with exchange bureaus in near future.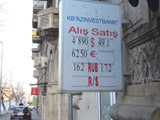 APA was informed about it by the first deputy of the chair of the Administrative Board of the National Bank (NBA) Alim Guliyev. According to his words, NBA has already prepared respective normative document in connection with establishment of new currency exchange bureaus and balancing of their future activity and a final decision is expected to be adopted in a level of the Administrative Board of the central bank soon.
"Exchange bureaus will not be permitted to act under separate stations and they will have separate buildings, at the same time they will also be provided with security system and modern technological equipments. By this way they will become external structures of the National Bank and will have direct links with the Bank", - said the NBA official. At the same time, it was intended that any operation carried out in the bureau will be reflected in the accounting system of the Bank and employees working in bureaus will be included in the personnel.
As to the time bureaus will start their activity from, A.Guliyev said that this process will be implemented gradually and after completion of the period of the existing licenses of the currency exchange stations. Work hours of exchange bureaus will be defined in accordance with the work schedule of NBA in the new rules to be applied.
It should be noted that 575 currency exchange stations operated in the republic by July 1 of the past year.