"Macro-economic stability level and economic development rate in Azerbaijan is high," Julian Barengaut, the Deputy Director of the International Monetary Fund (IMF) Department on Near East and Central Asia, stated at a meeting with Ilham Aliyev, the Azerbaijani President, held on Thursday.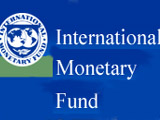 He mentioned great role of the budgetary and foreign policy pursued in the country. The representative of the Fund voiced confidence that the successful cooperation of IMF and Azerbaijan would be continued in the future. According to Berengaut, the goal of his visit to Azerbaijan was to hold consultations with the government on the public budget for 2006 and economic development.
The Azerbaijani President mentioned that Azerbaijani leadership highly values the co-operation with IMF. According to Aliyev, Azerbaijan has achieved great success in economy and global energy projects testify for it. The head of the country also spoke about the taking measures in keeping of macro-economic stability and principles of balanced economy.
Trend