The government of Azerbaijan finalized the third stage of the "Extraordinary Aid Program of the Republic of Azerbaijan" funded by the European Commission (EC).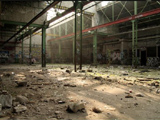 According to the information given to APA from the Agency for Restoration and Reconstruction of the Territory, EC allocated 30 million euros for implementation of this project aimed at restoration and reconstruction of most important social and technical infrastructure objects of the country.
The program carried out on the basis of the memorandum signed between the government of Azerbaijan and EC in 1998 was realized in 3 stages. The last, third stage of the program has been implemented since 2002. 10 million euros were spent for restoration and reconstruction works in this stage. Many health and educational enterprises were repaired and provided with facilities, anti-flood measures were conducted and water supply systems of the regions were constructed in this stage.
APA