The AZER-REI immovable property index decreased by 4,6 points and stayed at 197,1 mark in the estate market of Baku last month.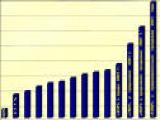 "Property Market Participants" Public Union informed APA that the average price growth on the market of second-hand estate formed 1,8 % in November and the most expensive district of Baku was Sabayel (average price 1173 $/square meter), the cheapest district was Garadagh district (average price 317 $/square meter). The average price offered to the housing market in the city was 771 $/square meter (growth 1,8 %) for used estate, and 524 $/square meter (reduction 4,5 %) for newly built.
According to comparison of the prices in segments of the estate market, the growth occurred mainly in houses with the "Architecture" (2,2 %), "Italy" (2,6 %), "Kiev" (2,3 %), "Stalinka" (3,9 %) and "Experimental" (3,0 %) projects.
Price of apartments in buildings of "Architecture" project went 0,4 % down in the center, and on the contrary, 2,5 % of growth was registered in the prices of apartments in the buildings with the same project situated near the central zone. Apartments of "Leningrad" project formed majority on the market as in previous months (26,5 % of the general offer) and this figure increased by 2 % in comparison with the previous month. Apartments of the "Minsk" and "Kiev" projects decreased by 25,2 % and 26,8 % on the market, respectively, in accordance with the general offer portfolio.
The price of land increased by 2,4 % in the center of Baku and by 3,2 % on the territories near the center. The general average price variation of the capital increased by 2,4 % on the land market as it is typical for autumn months and reached the level of 17110 $ for a hundred. The average price growth formed 22,9 % in comparison with the respective period of the past year. 3,2 % of the price growth was registered in the renting market during the month.
APA