The National bank of Azerbaijan increased Bank rate by 0,5%.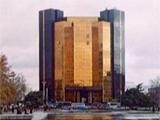 The agency Trend reports.
National bank of Azerbaijan of Azerbaijan informed, from 23  May the basnk rate of National rate of National bank is to be 7,5%, anhd not  7% as it was before.
The information reads, macroeconomic situation is to be defined depending on dynamics of inflation, strengthening of inflation-monetary control and coordination of measures on macro-economic policy with measures on other directions.
Information also indicates, for the last period two-digit indicator of growth is observed in the state. Particularly, growth of GDP is 14,2%, Real  incomes of population grew by 18-20%, 200 thousand new places were created.  As a result of neutral policy of sterilization of national Bank of Azerbaijan the ratye of manat is stabilized at level 2,7%. Manat base decreased by 8,7%,  amd expanded monetary base by 1,1%.