The number of Turkish-Azerbaijan joint venture Azercell Telecom founded in 1996 increases.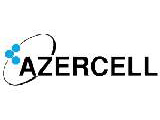 As it was reported at the company, for February 2005 the common number of "Azercell" subscribers was 1 million 340 thousand. During 2 months of current year the company added 93 000 new subscribers, and in 2004 the common number of subscribers was 1 247 000.  (Trend)
It was also reported that the technical basis of the company allows serving for 1 500 000 subscribers. Azercell has 8 main stations, 2 subscriber bases, 7 mobile communication telephone exchanges and 480 base radio stations.