Filling of Azerbaijan part of Baku-Tbilisi-Ceyhan Main Export Pipeline with oil will begin in the middle of May.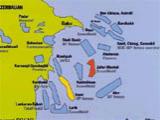 According to the information given to APA from state Oil Company (SOCAR), first of all, underwater pipeline of 187 kilometers and then widened reservoirs in "Sangachal" terminal of SOCAR will be filled with oil.
Georgia part of the pipeline will be filled in the middle of June. In the middle of June from the borders of Turkey and Georgia Azerbaijan oil will pass to Turkey part. Turkey part of the pipeline will be filled, till the end of September. First tanker filled with Azerbaijan oil, will be taken out to world market from Mediterranean Sea, at the beginning of fourth quarter which is September 30-October,1. 98 percent of the pipeline in Azerbaijan is already ready.
On-land works, construction of wires, application of new communication technology are being held now. But in Georgia, 93 percent of the pipeline is ready. The construction of the part of about 1-1.5 km length has remained. Currently, the construction of the pipeline in the mountains is not possible, because of bad weather conditions. In Turkey, there are difficulties. It will be possible to finish works here only till the end of June.