Lankaran will be able to receive more than 10,000 tourists yearly after some years, Zeynal Nagdaliyev, the head of the Executive Authority of Lankaran told.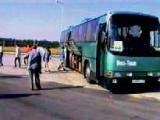 According to Nagdaliyev, one of the tasks of the State Program on the Social-Economic Development of the regions in 2004-208 is the development resort-sanatorium and tourism sphere of Lankaran. The 'Gala' Hotel and Khanbulan Rest Center gives opportunity to receive 2000-3000 tourists a year. 'Lankaran' Sanatorium, 'Khazar' Hotel and other established tourist centers would be able to receive more than 10,000 a year in the near future. The seaport, which will finish the construction this year, will give impulse for the development of the tourism in the region, Nagdaliyev noted. (Trend)
There were determined 3 tourist zones and prepared tourist maps for the development of the tourist sector in Lankaran. The information about the geographical position and natural conditions of the territory, local kitchen, culture architectures, and tourist opportunities were placed in the internet-site in azeri, Russian and English languages for the establishment of the new tourism infrastructure and development of the tourism sector in Lankaran. "Besides, we recorded the documental films to CD and announced them in some European countries and provided their distribution", Nagdaliyev added.
About 1200 tourists were served in Lankaran during 2004 year. 400 of them - the representatives of the echo tourism, rested in the village houses. This made opportunity to open 260 permanent and 90 seasonal employment places.