Azerikard Processing Center will be ready to work with the denominated manat by 1 October 2005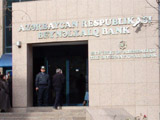 Elmar Sadykhov, the head of the Center, by that time the International Bank of Azerbaijan (IBA) will be ready for deliver services through the cash- vending machines.
"We are currently involved in mailing inquiries to suppliers which are to deliver the necessary equipment for work with denominated manat. So we will define the cost of work within several weeks,' he underlined.
Sadykhov said that during the period of parallel functioning of old and new banknotes in 2006. "There are four cassettes in the cash-vending machine; of them two are allocated for manats and two - for dollars. It would be right not to change the proportion," Sadykhov stressed.
According to Sadykhov, the procedures on transition to new banknotes will last long, while Azericard will succeed to cut it as the preparations for the process of denomination for 1000 times had been scheduled for January 2005.
The denomination of the national currency in Azerbaijan will be implemented on 1 January 2006 in accordance with the relevant presidential decree issued on Monday. So, 1 new manat will be equal to 5,000 old manats. The old banknotes will be in circulation along with the new ones by 31 December 2006.