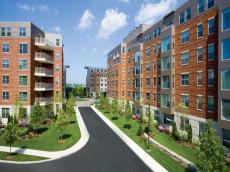 By Azernews
By Sara Israfilbayova
The prices in Baku's real estate market increased by 0.46 percent in September 2017.
The main market segments, except for the primary housing market, showed growth in September, Nusret Ibrahimov, director general of the MBA Group consulting company, real estate expert, told Trend.
"Prices in the secondary housing market grew by 3.25 percent, in the land market by 1.61 percent, in the market of commercial facilities by 1.5 percent. Rental housing rose in price by 4.63 percent and rental of commercial facilities went up by 5.75 percent in September. As for the prices in the primary housing market, they decreased by 6.56 percent during the month," he said.
The expert went on to say that the growth of prices in September is seasonal, adding that following certain decrease in summer, in autumn, the market becomes active
The expert noted that since early 2017, prices in the market have fallen by 3.28 percent.
"In general, the decline in prices slightly slowed, and the rental market has even grown by 0.21 percent from the beginning of the year. Other market segments showed a decrease. Prices in the primary and secondary housing market fell by 17.4 percent and 6.29 percent, respectively. Since the beginning of 2017, prices in the land market have fallen by 4.2 percent, in the market of commercial facilities by 14.83 percent and prices in the market of their rental have decreased by 14.45 percent," Ibrahimov said.
Earlier, Ibrahimov said that the prices in the real estate market can increase by ten percent in 2017. The gradual adaptation of the population to the current situation and the restoration of Azerbaijan Mortgage Fund's (AMF) activity can contribute to it.
Despite recent fluctuations in the monetary market and economic problems by force of considerable slump in global oil prices, the real estate market remains the most profitable investment tool in Azerbaijan. 
Today, the share of the construction sector in Azerbaijan's GDP amounts to about 10 percent.
The government plans to achieve a GDP growth by 249 million manats ($146.47 million) until 2020, through the implementation of measures envisaged in the Strategic Road Map for the development of housing provision at a reasonable price.