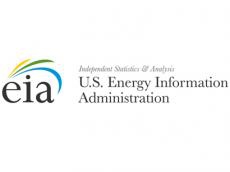 By Azernews
By Nigar Abbasova
The U.S. Energy Information Administration (EIA) expects a decrease in output of the petroleum and other liquids in Azerbaijan in the next two years.
In its December Short-Term Energy Outlook (STEO), the agency forecasted a decrease to 0.83 and 0.82 million barrels per day (bpd) in 2017 and 2018 respectively. This is while the country's output stood at 0.87 million barrels per day as of 2016, according to the report.
Energy-rich Azerbaijan, which is not a member of OPEC, has already started oil output cuts in line with the recently reached deal to curtail global oil output .
The country earlier revised its forecast for oil output in 2017, reducing it by 3.7 percent to 39.797 million. Under the forecast, average daily oil production will amount to 800,000-807,000 barrels in 2017. The revised forecast is totally in line with the landmark deal between OPEC and non-OPEC states.
Meanwhile, the agency's forecast on the average price for Brent oil stands at $53.5 per barrel in 2017 and $56.18 per barrel in 2018, while in its previous report the agency forecasted the Brent crude oil price at $51.66 in 2017 and did not give any forecast for 2018.
The price of West Texas Intermediate (WTI) oil prices are forecasted at $52.5 per barrel in 2017 and $55.18 per barrel in 2018. In its December 2016 report the EIA forecasted the WTI prices at $50.66 in 2017.
Despite the recent OPEC agreement, the EIA expects global oil inventory glut to continue but at a generally slower rate in 2017 and 2018 than in 2016. The expected persistence of excess global oil supply in the near term, along with the responsiveness of U.S. tight oil production to rising oil prices in late 2016, is expected to limit significant upward oil price pressures in 2017.
Global economic developments and geopolitical events in the coming months have the potential to push oil prices higher or lower than the current price forecast, according to the EIA.
Uncertainty remains as to the effectiveness and duration of the concurrent OPEC and non-OPEC production cuts, which could influence prices in either direction. Also, the potential for continued efficiency gains and cost reductions from non-OPEC producers in the new higher price environment could result in additional volumes of supply that could put downward pressure on prices.