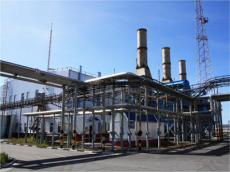 By Azernews
By Nigar Abbasova
France's Technip S.A, a world leader in project management, engineering and construction for the energy industry, plans to complete work on design engineering as part of the construction of oil and gas processing and petrochemical complex (GPC) in Azerbaijan in the second half of 2017.
SOCAR GPC awarded a service contract to Technip for the ethylene and cryomax technology licenses respectively for a petrochemical complex and for the natural gas liquid recovery section of a gas processing plant, which is part of a new gas and petrochemical complex.
Technip has also been awarded a contract for the development of the process and engineering design of all the process units included in the gas and petrochemical plant, as well as the design of the related utilities and off-sites.
The scope of work covers the engineering design of a new gas processing plant, as well as a new petrochemical plant including a steam cracker with a capacity of 610,000 tons of ethylene and 120,000 tons of propylene per year.
Also, the utilities and off-sites scope includes the design of all the necessary units to operate the plant efficiently while respecting the required safety and environmental standards.
The cost of the project is around $4 billion.
SOCAR earlier signed licensing agreements with Technip, Univation Technologies, Axens and Sinopec Tech as part of the project on the construction of GPC in Azerbaijan.
Under the agreement, SOCAR will get a license on the use of relevant technologies provided by the companies, while licensors, in turn, will provide certain engineering and design solutions for the project.
 SOCAR launched the GPC to create a cutting-edge standard processing industry in Azerbaijan.
The primary purpose of the project is to provide the end users in the country with purified natural gas and ensure production of high value added polymers.
Under the project, gas processing, and petrochemical plants will be built in Garadagh, 15 km south of Baku. The project is deemed to mark the beginning of a new era in the development of Azerbaijan's petrochemical industry and turn the country into a major player in the industry.