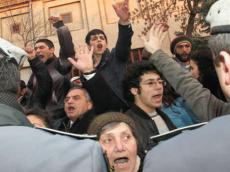 By Mushvig Mehdiyev
An opposition camp in Armenia has vowed to go on its crusade against the authorities until the regime concedes power back to the people.
Supporters of the Founding Parliament, the initiator of the "100th Anniversary Without the Regime" campaign, said their fight will go on despite the fact the government imprisoned several of their comrades.
Activists of the hardline group, including its chairman Garegin Chukaszyan and leading mastermind Jirair Sefilian, were handcuffed on April 7 after a violent government crackdown. They were later convicted for attempting to organize mass disturbances through nationwide rally on April 24.
The key goal of the FP was to oust the incumbent regime on April 24 simultaneously with the "genocide" commemorations. But the movement was not followed by a "planned mobilization" as the capital city was under heavy police control.
On April 24, the anti-government movement gathered scores of supporters for a rally, but the organizers avoided to stay overnight because of "bad weather conditions".

The current leading figures at the FP said the ultimate goal of dethroning the regime has not been abandoned yet.
"We realize and confirm that mobilization did not take place on April 24. But this does not mean that the process of removing the regime has stopped," interim coordinator of the FP secretariat, Alec Yenigomshyan told media on April 29.

He added that one of the main reasons impeding any speedy mobilization is the arrest of the movement's leading members. They believe that the government created "an atmosphere of terror" among the people through such an arrest campaign.

The health condition of the FP secretariat member Gevorg Safaryan got dramatically worse on April 29 following two weeks of hunger strike at the Nubarashen penitentiary where he is currently being held under. Safaryan went on a hunger strike to protest his arrest and what he calls "political persecution."
The people and political circles in Armenia believe that the regime destroyed the opposition front almost completely and now enjoys a solo reign in the country. The second largest political camp, the Prosperous Armenia's leader Gagik Tsarukyan's knockdown in February was the government's crucial triumph in the political battlefield, claimed experts.
Dissent in Yerevan blamed the regime for ignoring the requirements and principles of the Independence Declaration and the Constitution. Thus, President Serzh Sargsyan's "anti-national" regime, according to the opposition forces, should be taken down for the sake of national power.